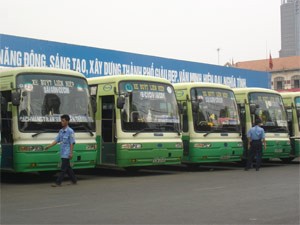 Preparing for New Year's Eve: Buses parked at the Ben Thanh Market Station wait for passengers. (Photo: Hoang Uy)
Traffic in Ho Chi Minh City was relatively calm New Year's Eve and Day, said Senior Lieutenant Colonel Than Minh Khuya, vice director of the HCMC Traffic Police.
Traffic police were stationed in many downtown areas on New Year's Eve to ensure road safety.
Thanks to an early patrol starting at 10 pm, police reduced the number of street races in outlying districts, according to the HCMC Traffic Police Office.

During the patrol, they seized fourteen motorbikes preparing for a race and caught one rider disturbing the peace yesterday.
Patrols in Ha Noi also allowed the inhabitants there to enjoy a wonderful New Year's Eve without being scared by illegal street races.
The number of passengers traveling by bus from December 29 to 31 increased by 15 percent, said Nguyen Ngoc Thua, director of the Eastern Bus Station.
Five hundred forty eight buses were used to meet the surging demand for some of the shorter routes including Vung Tau, Da Lat, Nha Trang and Buon Ma Thuot.
One hundred fifty extra buses were also mobilized to meet demands in the West end of the city.
Overall, rider ship over the New Year's holiday rose by thirty percent representing a ten percent increase over the previous year. Buses traveling around the city were completely full, as were ferries.
According to Nguyen Duc Chinh, deputy director of the Ho Chi Minh City Bridge and Ferry Management Company, all ferries ran continuously from 12am, December 31, 2006 to January 2, 2007.
Ferries at Cat Lai Port had to make about 400 trips a day, an increase of 140 trips, while 600 trips a day were made at Thu Thiem Port over the same period, an increase of 50.
In general, the public transportation services did a fantastic job of meeting the increased transit demands at the end of 2006.