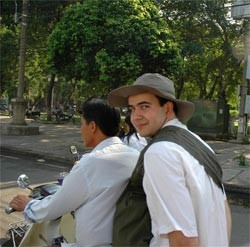 Motorbike taxi in Ha Noi street.
The Safe Motorbike Taxi Fleet project is on trial in Tay Ho District, Ha Noi, in May, 2005.
The objectives of the project are to improve the drivers' traffic safety behaviors as they are not only responsible for their own safety, but also for their passengers'.
Fifty drivers have joined the Safe Motorbike Taxi Fleet. During the past six months, they have attended a traffic safety course, an advanced driving course and emergency first-aid training.
They were also provided with helmets, first-aid packages and uniforms under the project. Many telephones were set up at tea shops and barber shops, enabling customers to contact the motorbike taxis in the district.
Currently, there are nine places set up at four wards of Yen Phu, Nhat Tan, Quang An and Tu Lien, where passengers can book a trip by phone.
The project also provides marketing service for the drivers by distributing over 1,200 flyers with contact numbers to residents, bars, hotels and restaurants in the area to reach the local travellers.
The Safe Motorbike Taxi Fleet project is planned by Counterpart International, Asia Injury and Hanoi Red Cross.