Russian Foreign Minister Sergei Lavrov began a two-day visit to Vietnam Saturday with both sides hoping to boost ties.

Lavrov arrived in Hanoi Friday and began a full day of meetings and ceremonies Saturday by holding talks with his Vietnamese counterpart Pham Gia Khiem.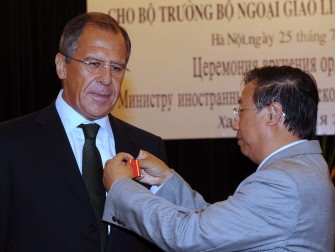 Vietnamese Deputy Prime Minister and Minister of Foreign Affairs Pham Gia Khiem (R) pins a friendship medal onto visiting Russian Foreign Minister Sergei Lavrov during a ceremony held in Hanoi on July 25 (AFP photo)
The talks aimed to develop a "strategic partnership", Lavrov later told reporters.
"Relations between the two countries have developed positively," Lavrov said. "We are convinced that the bilateral cooperation will be at the highest level."
Khiem said the talks took place in a "brotherly" atmosphere.
"We wish to see better economic cooperation on the foundation of our political relations," he said.
Lavrov was also to meet President Nguyen Minh Triet and Prime Minister Nguyen Tan Dung, and visit the Vietnam Russia Bank, a joint venture.
PM Dung last week expressed hope for a boost in trade with the country which he visited almost two years ago, Vietnam News Agency said.
On Saturday Vietnam and Russia signed a memorandum of understanding between their respective atomic energy agencies.
Vietnam's Deputy PM Khiem said the two sides also reaffirmed their traditional relations in other fields, including defence.
Preliminary Vietnamese government data show that exports to Russia totaled almost 139 million dollars in the first five months of this year while imports were valued at about 525 million dollars.
In the telecommunications sector, Russia's VimpelCom last week announced the commercial launch in Vietnam of its Beeline mobile service through GTEL-Mobile, a joint venture with a Vietnamese state-run company.
Lavrov was to travel Sunday to southern Ho Chi Minh City to meet local government officials there.