As per Southeast Asian tradition, the 10th day of Lunar New Year (Feb.1) is considered auspicious for buying gold in some form or the other, as a token of good luck.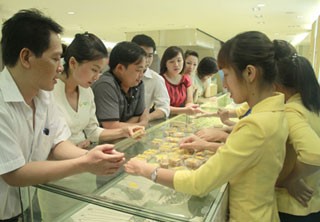 People queuing up to buy gold (Photo: Thanh Nien)
Vietnamese people flocked to jewellery shops on the tenth day of the lunar month to buy one tenth of a tael of gold, or whatever they could afford.
At the Saigon Jewellery Company headquarters at 115 Nguyen Cong Tru Street in District 1, people were seen queuing to buy small quantities of gold on Tuesday.
According to Nguyen Cong Tuong, deputy head of the business division of SJC, purchase of gold increased from January 30, when price of gold decreased from VND46.2 million a tael to VND45 million per tael.
Not only SJC-brand gold sold well but also other brands like SBJ of the Sacombank Jewellery Company, PNJ-DAB of the Phu Nhuan Jewellery Company and AAA of Agribank, all sold like hot cakes. This resulted in most of them hiking rates by VND300,000 per tael, from VND45 million to VND45.3 million.
Meanwhile, global gold remained steady on Wednesday, after posting its biggest monthly gain since August with an 11 per cent rise in the first month of 2012, as concerns over global economic growth lingered.