Two people died and twenty-three others were severely injured around 6:15 am on July 5 in a road accident in the central province of Ha Tinh.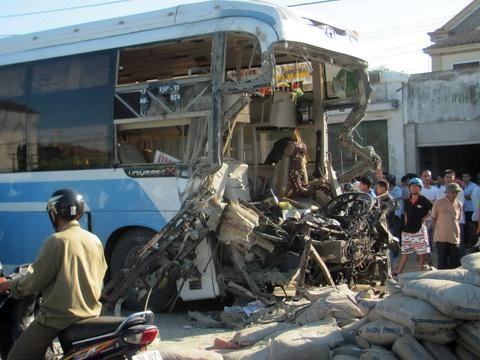 Smashed front of the bus after the accident.(Photo:Nhan Dan)
A bus carrying thirty passengers, enroute from Hanoi to Ha Tinh collided with a truck carrying 70 tons of cement.
Nguyen Van Hung, 21, the bus driver's assistant and Bui Quang Hien, 27, a passenger, were killed instantly.
The injured have been admitted to Can Loc General Hospital and Ha Tinh General Hospital, with five victims in critical condition.
The accident brought traffic to a stand still for several hours.
The Ha Tinh General Hospital later announced the names of the two critically injured people and has moved them to Hanoi.
According to Colonel Tran Van Son, head of Can Loc District Police Department, the cause of the accident was brake failure in the bus that had broken down in Thanh Hoa Province, but notwithstanding the driver continued to drive at high speed.
On the same day, representatives of the People's Committee of Ha Tinh Province visited the victims in hospital. The province has announced a compensation of VND1 million to the families of the dead and VND500,000 to the injured.