The decision by Vietnam Food Association to halt procurement of one million tons of summer-autumn rice for stockpiling has raised concern with farmers in the Mekong Delta as it could cause rice prices to fall right in the amidst of the crop harvest.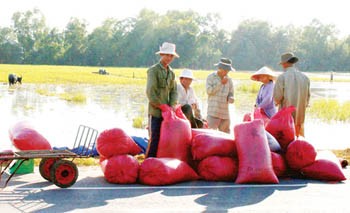 Farmers worry that freeze in rice stockpiling will escalate prices (Photo: SGGP)
The Association justified their decision, saying that since rice prices are already high it was not necessary for them to purchase more. At present, a kilogram of dried rice fetches VND6, 000 and VND5, 000 for a kilogram of un- dried rice.
Thoai Son is the largest rice growing district in An Giang, producing 600,000 tons of rice a year. Local authorities and residents are extremely worried as 36,500 hectares of rice is still to be harvested.
"We are pleased with the high rice prices for the summer-autumn crop. It will help pay off high production costs like fertilizers, pesticides, petrol and labor costs that have all escalated. However, over the last two days, the prices have remained stationary. We worry that they may soon go down," some farmers claimed.
Do Thi Thanh Thuy, head of the Department of Agriculture and Rural Development in Thoai Son, says most farmers in the districts live on rice production and usually sell all their rice soon after harvesting as they have no facility to store rice for more than two or three months. The Association's decision has placed farmers in a quandary.
Nguyen Van Buong, deputy director of the agriculture department in Hong Ngu District of Dong Thap Province says most farmers want to sell rice immediately after harvesting. The Association's decision to freeze purchase of rice is a matter of grave concern to us as we don't know what the rice prices will be.