Hundreds of households in the southern province of Dong Nai have petitioned local authorities to claim compensation of VND19 billion (US$905,000) from the Sonadezi Company for damages to their farm land, caused by release of untreated wastewater.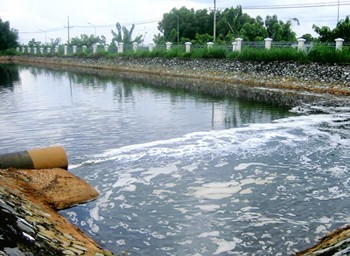 Untreated wastewater spewing from the Sonadezi Company plant (Photo: SGGP)
Of the 271 households that have petitioned, 250 from Tam An Commune in Long Thanh District have demanded compensation up to VND16 billion.
Tam Phuoc Commune in Bien Hoa town has 21 households asking for compensation. The Commune's Farmers Association has determined that 17 households have suffered damages of over VND2.6 billion, and is estimating losses of the remaining four households.
All petitions of the residents are present at the people's committees in Tam An and Tam Phuoc Communes.
Sonadezi Company in Long Thanh Industrial Zone was caught red-hand dumping untreated wastewater into Ba Cheo Canal, which flows into the Dong Nai River, in August last year.
Thousands of cubic metres of wastewater, far exceeding permissible limits, was being released by the company into the canal each day.
The company was penalised VND405 million (US$19,000) and also asked to repair damages caused.
Related articles:
Sonadezi Company penalized for polluting environment
Sonadezi treating toxic waste under dubious license
Sonadezi wastewater is toxic: police
Dong Nai officials disassociate from Sonadezi case
Sonadezi spewing excessive wastewater
Sonadezi Company expenses investigated
Authorities lax, while Sonadezi pollutes
Sonadezi Company fleecing other enterprises
Untreated wastewater polluting farmland
Company caught polluting Dong Nai River