Ochna blossom gardeners in HCM City say they can make a good living from renting the flowers when the Tet (Lunar New Year) festival is drawing near.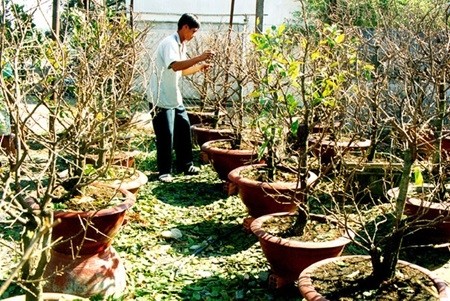 A gardener in HCM City's Hiep Binh Chanh Commune nurses ochna blossom for Tet holiday. Renting the flowers is a service that helps local gardeners make a good living. — VNA/VNS Photo Pham Do.
In the recent years, renting ochna blossoms, which are a symbol of Tet in southern Viet Nam, for displays has flourished among local residents as they prefer renting trees to spending a huge amount of money on buying them.
An ochna blossom gardener in Thu Duc District told Nong Thon Ngay Nay (Countryside Today) newspaper that the common rental service for two weeks varied from VND3million (USVND2,956,590) to VND5million (VND4,935,060).
Many gardeners could earn tens of millions of dong, even hundreds of millions of dong from the service.
Enterprises have also collected ochna blossoms from gardeners to sell them and offer rental service.
Lam Van Duc, director of Binh Loi Ltd Co, said that his company collected over 200 ochna trees from gardeners of Binh Chanh District's Binh Loi ochna blossom village for rent. Many of them have been ordered.
The rental rate is reasonable, from VND2million (VND1,978,470) to VND3million (VND2,956,590) per pot, he said.
Duc said that hiring ochna blossoms becomes trendy as the rental price is only 40 to 50 per cent compared to the selling price while flower quality is ensured. Customers do not have to worry about caring for the trees.
His company also covers services such as shipping trees for free or consulting customers with how to take care of blossoms to make sure they will bloom the brightest at Tet.