Significant Buddhist activities in 2006 have made positive changes in the religious practice in Viet Nam and contributed to the country's political stability, creating a unity in the society.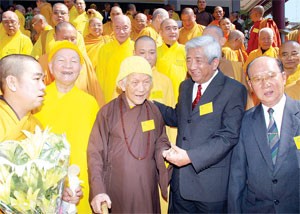 Chairman of Vietnam Fatherland Front Pham The Duyet (2nd, R) attends the meeting on Jan 22

These remarks were made by President of the Viet Nam Fatherland Front, Pham The Duyet, and Chairman of the Government Committee for Religious Affairs, Ngo Yen Thi, at the fifth conference of the Viet Nam Buddhist Sangha (VBS) in Ho Chi Minh City on Monday.

Both officials also agreed that Vietnamese Buddhism should evolute more in the country's new context while maintaining its slogan "Dharma, Nation and Socialism" through religious activities for the sake of the country and people.

Most Venerable Thich Tri Tinh, First Deputy Chairman of the VBS and Chairman of the VBS Executive Council, cited the remarkable achievements made in 2006. He said a series of Buddhist monarchies and schools were built with support from local authorities to facilitate the education of thousands of monks and nuns, more and more religious books and publications were published, and religious activities were diversified.

Around VND145 billion in social charity funds were raised to give to the poor and flood victims. The Sangha also paid attention to accelerating exchanges with other countries through a number of Buddhist delegations from foreign countries visiting Viet Nam and particularly the successful hosting of an international Buddhist conference.

The fifth conference of the VBS, attended by dignitaries from the Sangha and its branches in 53 provinces and cities nationwide, reviewed their activities in 2006, the designed programme of action in 2007 and discussed preparations for grassroots congresses and a national congress scheduled for 2007.