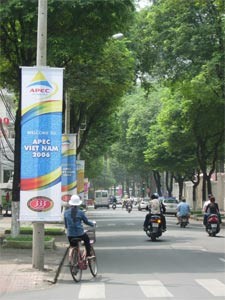 The streets of Ho Chi Minh City are full of sponsored APEC banners (Photo: Hoang Uy)
A rehearsal for APEC Leaders' Week (November 12-19) was held at the National Convention Centre in Ha Noi yesterday, watched over by former Deputy PM Vu Khoan, the prime minister's special envoy for the APEC summit.
The Logistics Subcommittee of APEC 2006 says its preparations have been completed, and the 400-seat conference hall and its audio system are ready.
Since yesterday, health inspectors, police and tourism officials have been conducting spot checks of the nearly 140 swank hotels with 7,000 rooms where the APEC delegations are or will be staying in the national capital.
The first delegations arrived on Tuesday, said Do Thi Xoan, chief of the Vietnam National Administration of Tourism's Hotel Department.
The National Steering Committee for Bird Flu Prevention has instructed local authorities to maintain a close watch on animal slaughtering, transporting and trading in Ha Noi, Da Nang and Ho Chi Minh City during the APEC gathering.
Also yesterday, 25 medical teams from 16 hospitals joined in a rehearsal by the Ministry of Health.
Professor Le Ngoc Trong, Deputy Minister of Health and head of the Health Commission of APEC 2006, stated that the Ministry of Health could now report to the government that everything was ready for the 14th APEC summit.
On the same day, Deputy Public Security Minister Senior Lieutenant General Nguyen Van Huong watched a security rehearsal arranged by the APEC security subcommittee. He was pleased with what he saw.