The ASEAN Inter-Parliamentary Organization (AIPO) meeting entered its second working day in Ho Chi Minh City on July 4, with the fourth session discussing measures to help victims in human trafficking rings integrate into the community again.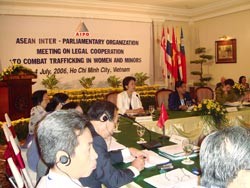 Regional lawmakers discuss issues in the second working day of the AIPO meeting. (Photo: Cong Quoc)
In the three-day conference, legislators of AIPO members are discussing ways to close legal loopholes to combat women and children trafficking.
In the fourth session, an Indonesian representative said AIPO members need to set up a mechanism to reinforce law in both national and local levels.
 
The Vietnamese side said in order to protect and support the victims, AIPO members need judicial assistance among them, and must work out specific measures to prevent discrimination against the victims.
Vietnamese representatives added that it is necessary to help the victim deal with psychological problems in re-integrating into the community, as well as to create jobs for them, because a basic motion behind human trafficking is poverty and hunger.
In the afternoon, the AIPO meeting agreed upon discussions to be reported to the 27th AIPO General Assembly, held in the Philippines in September. The results include setting up a group of AIPO experts to assess current laws of the AIPO members and build a regional strategy to enhance cooperation among parliaments to fight human traffic.
Besides, the group of experts would cooperate with the United Nations, non-governmental organizations and other international organizations, bolster cooperation between AIPO and ASEAN in this fight.
The AIPO meeting also agreed to ask AIPO members, special observers and observing countries to assess current laws on fighting human trafficking, as well as to build laws designed for this combat.