Leaders of Cambodia, Laos and Thailand will attend the second Mekong River Commission (MRC) Summit in Ho Chi Minh City on April 5.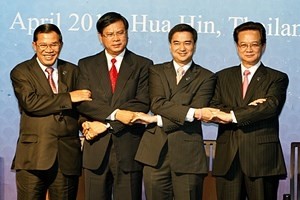 From left to right: Prime Ministers of Cambodia, Laos, Thailand and Vietnam at the 1st Mekong River Commission Summit. Photo: VNA
In attendance will be Cambodian Prime Minister Samdech Hun Sen, Lao PM Thongsing Thammavong, and Thai Deputy PM and Foreign Minister Surapong Tovichakchaikul at the invitation of Prime Minister Nguyen Tan Dung.
Themed "Cooperation for Water, Energy and Food Security in Transboundary Basins under a Changing Climate", the summit aims to strengthen a commitment to cross-border cooperation in the sustainable development of water and other resources of the Mekong River.
The first MRC Summit was held in Hua Hin, Thailand in 2010 to mark the 15th anniversary of the Agreement on Cooperation for the Sustainable Development of the Mekong River Basin (1995 Mekong Agreement).