About 500 delegates, both foreign and local, attended the Mekong Delta Investment and Development Conference held in Can Tho City September 6 to discuss ways to translate the region's development potential into reality.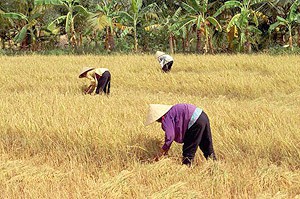 Farmers harvest rice in the Mekong Delta province of Dong Thap (File photo)
The Mekong Delta is a key economic zone that supplies a wide range of agricultural products such as rice, fisheries and fruit. The region has also seen a moderate growth in industrial and service sectors.
 
However, due to poor infrastructure, local authorities' unattractive policies, a lack of synchronous development strategies, the region has failed to fully exploit its potentials.
 
Though Mekong Delta provinces have received central funding under national target programs, results of attracting investment to the provinces have not been as expected.
 
Therefore, the conference with the theme "Connectivity and Development" is seen as an opportunity to strengthen regional connectivity, introduce potentials, investment policies and key investment projects.
 
The conference is attended by leaders of ministries, and leaders of provinces and cities in and outside the Mekong Delta. In addition, there are representatives of corporations, economic groups, business associations and foreign and domestic investors.
 
At the conference, ministries, central sectors and provinces in the Mekong Delta would provide information about orientation, strengths and priorities for the development of the region.
It is also considered an opportunity for businesses, foreign and domestic investors to access and choose investment projects in the Mekong Delta which are encouraged to invite investment.
 
Besides, the conference offers a chance for investors to discuss directly with government leaders, the central and local departments as well as proposal units to get more specific information for projects which they are interested in.