Vietnam presently has 22 airports with two major international airports in Hanoi and Ho Chi Minh City, which seem adequate and sufficient enough to serve the country's needs.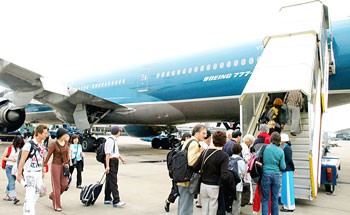 Many cities and provinces are calling on investors to build regional airports without any such requirement. (Photo: Sggp)
Recently the Ministry of Transport has approved the construction of an airport project of a total investment cost of VND3.4 trillion in the Mekong Delta province of An Giang.
Vuong Binh Thanh, chairman of An Giang People's Committee justifies the project saying that the province receives the highest number of tourists in the Mekong Delta during national festivals every year. Also, other than the airport investment there are many domestic and foreign projects assigned for the province's industrial zones and urban areas.
Contrary opinions prevail as to the necessity of the An Giang airport construction. An Giang has no demand for tens of daily flights. Local authorities will suffer losses if only one flight with just 50-60 passengers comes to the province everyday. An Giang is not regarded as a very attractive destination for tourists. The province's strong points include rice and pangasius fish and the province needn't spend a great amount on an air cargo service, an aviation expert added.
Many provinces and cities are calling on investors to build airports or expand and upgrade existing domestic airports into international status even without any such requirement.
Economic experts say that local authorities have not focused on developing their strong features and researching on social and economic situations. Additionally, airports are not considered a necessity for economic development.
In fact, it takes a long time to recover capital after investing in airport infrastructure.
Such an example is Can Tho Airport that sees fewer than ten flights every day and has not brought in any economic benefits to the city as yet.
According to the Civil Aviation Administration of Vietnam, the government will now invest only in major airports that play important roles in the economic development of a region.