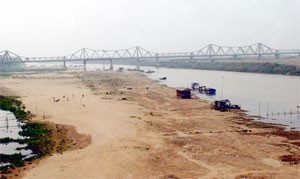 The Red River is dry
The water level of the Red River in Ha Noi fell down to 1.53 meters on Tuesday night, the lowest at least in the past 100 years.


It was 10 centimeters lower than the level in the end of 2006. Sand has emerged in the middle of the river, causing difficulties to waterway traffic in Ha Noi.
Even worse, this year's lowest level is forecast to decrease to just 1.4 meters in February and March, according to the weather bureau.