The Vietnam Red Cross Society is commemorating 50 years of the 'Agent Orange' tragedy in Vietnam with a peace walk for the victims, which will take place at the Independence Park and through the streets around Thien Quang Lake in Hanoi on August 7.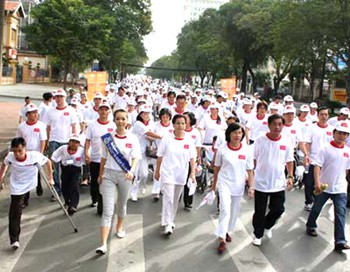 A peace walk for AO victims in HCMC (Photo: VnExpress)
The theme of the peace walk is "Take care of health and improve lives of Agent Orange victims". The walk will be attended by a minimum 5,000 people, and will also call upon organizations, businesses and individuals to donate generously to improving the lives of the unfortunate 'Agent Orange' victims cross the country.
The organizers of the walk will also call upon members of the public to donate 81,000ml of blood for the treatment of 'agent orange' or dioxin patients.