After reaching peak levels on Monday, floodwaters have begun to   recede on most rivers in the central and central highland regions and local authorities and residents are beginning to focus on returning back to normal life.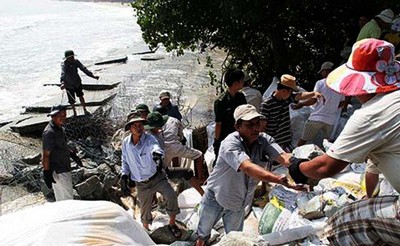 Residents build a barricade at a landslide prone spot along a coast in Thua Thien-Hue Province (Photo: SGGP)
Nearly 1,000 evacuated families have now returned back to their homes in Quang Ngai, Binh Dinh, Phu Yen and Gia Lai Provinces. Army and civil defense forces are helping to repair and clean up houses.
The transport industry has mobilized human resources and equipment to repair damaged roads, especially routes in the mountainous districts of Quang Nam and Quang Ngai Provinces.
Landslides still cut off traffic in several areas in Quang Nam and Quang Ngai Provinces and the Central Highlands.
Heavy rainfall had swelled the Ba River in Ia Pa District in Gia Lai Province, and the Ayun Ha irrigation work released floodwater, inundating tens of houses and several farming areas.
Heavy rain also submerged nearly 500 houses and 2,000 hectares of plants in Ea Sup District in Dak Lak Province. Countless chickens were swept away, fish ponds overflowed and a number of roads were cut off by landslides. Total damage caused by flooding in the district is estimated at VND6 billion (US$286,000).
Dang Phong, chairman of the People's Committee in Bac Tra My District in Quang Nam Province, said that the district felt at least five slight tremors and explosions on night of October 6 and early morning on October 8.
The tremors occurred while it was raining heavily and floodwaters were surging on Tranh River, causing worry to local people. Local authorities had designated safe locations to evacuate residents in any emergency situation.
According to the Steering Committee for Flood and Storm Prevention in the Central and Central Highland Region, the recent flooding caused losses of nearly VND35 billion (US$1.7 million).
More than 550 houses collapsed or were damaged, 263 hectares of rice crop and about 2,400 hectares of vegetables rotted from flooding.
By Tuesday, two people were reported dead or missing while two others suffered injuries.
Related articles:
Flooding follows storm fury in central region
Storm 'Gaemi' lashes central region with heavy rainfall