Several passengers trying to book online Tet train tickets on the first day of sale via website www.vetau.com.vn on Tuesday were disappointed as the Saigon Railway site was faced with major network congestion.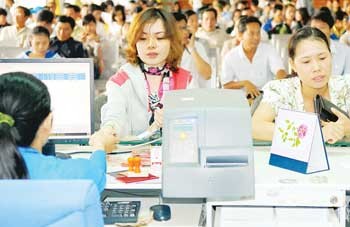 Passengers buying Tet tickets at Saigon Railway Station (Photo: SGGP)
Saigon Railways opened online sale of 40,000-45,000 train tickets for Northern Province destinations on Tuesday.
Although the website opened online sales at 8am, most internet cafes near universities and industrial zones were crowded with people as early as 7am. By 8am, people began surfing the site but within a few minutes the website seemed to have crashed and informed of access problems.
Than Thi Chi from Thu Duc District said she tried to log into the website at 8:10am for a ticket to Nam Dinh Province but the website would not access and she logged out. She tried accessing many times again during the day but faced the same problem. Also the net connection was too slow, frustrating all her efforts.
Saigon Railways had hired a competent internet service provider to prevent such a mishap from occurring as had happened in previous years. However, on the very first day of the online sale, passengers saw "service unavailable" or "not found" on their net screens.
Many people moved to access on computers installed at the Saigon Railway Station in the hope that the internet connection would be faster and better there, but conditions were as bad.
Pham Ngoc Long from Tan Binh District lamented that every year the railways announced online sale of train tickets but the internet access was always congested. He tried to call the station for assistance but their phone lines were busy at all times.
According to the Saigon Railway Passenger Transport Company, the website is normally accessed by about 3,000 people surfing for train information every day, however when online sale of tickets opened at  8am, over 30,000 people accessed the website simultaneously causing the site to crash.
The company then worked with the internet service provider to repair the problem. By 10:45am, the system improved and 1,700 bookings could go through and by 3pm 7,343 bookings were confirmed.
According to Saigon Railways, online sales were as per schedule and expectations on the first day. At present only 15,000 seats were still available on Wednesday.
Related articles:
Saigon Railways online sale of Tet train tickets begins
Saigon Railways to open online sale of Tet tickets