On the evening of January 20th, a car accident at a railway crossing on National Road 1A in Hau Loc District, Thanh Hoa Province resulted in the tracks being blocked by a van that had been disabled by the collision.

Enter Nguyen Van Dan and Le Van Tinh – two local farmers from the nearby village of Phu Xuan who were about to become very big heroes…

About 1,000 people saved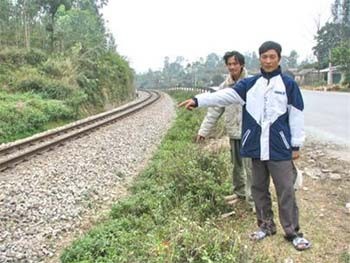 Nguyen Van Dan (front) and Le Van Tinh show where they saves the train.
On their way back home that evening, Dan and Tinh witnessed an accident involving 3 vehicles at the crossing which left the van stranded on the tracks. Dan glanced at his watch and realized that a train from Ha Noi would be passing through the area at just about that time.

Dan put his ear to the rail and shuddered when he realized that the train was indeed on the way. Without hesitation, Dan and Tinh ran toward the approaching train. Under heavy rain, Dan frantically switched his flashlight off and on in an attempt to get the attention of the train's engineer.

As the train came around a bend about 200m away Tinh hurriedly built a small fire on the rails while Dan jumped up and down and continued to flash his light. They did not have time to be afraid.

When the train was about 200m from the scene of the accident, it started to slow down. Dan continued waving his flashlight and shouting "STOP! STOP!" until the train came to rest about 10m from the van.

With the train safely at rest, Dan and Tinh helped emergency workers clear the van off the tracks and direct traffic around the accident scene.
Saving lives – not looking for glory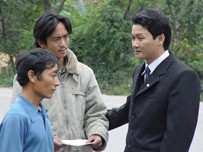 Do Minh Tuan (R), secretary of Thanh Hoa Provincial Communist Youth Union, praises the two men for their bravery. 
Later on, Dan told reporters: "Later that night, Tinh and I were asked to write a report about the incident so that Vietnam Railways could commend our actions and reward us. But I told them I was just happy that a terrible accident had been averted and that nobody had gotten hurt. I wasn't ever thinking about getting a reward or anything. I think that anyone in my position would have done the same thing. To be honest, I'm still shaking… Like I said, I'm just happy the train saw us and stopped".

Tinh added: "Dan is a sincere and honest man. Although his family is poor, he always helps everybody out the best he can". Dan's wife, Nguyen Thi Lan, and two children are very proud of what he did.

"What you did speaks volumes about the character of young people in Thanh Hoa. You are shining stars in the Ho Chi Minh Communist Youth Union. We admire you", said Do Minh Tuan, secretary of Thanh Hoa Provincial Youth Union, after rewarding the two heroes with VND 500,000 each.

Tuoi Tre newspaper presented the pair with the "Friends around me" award together with VND5 million. The award was created to honor individuals or groups who have made important contributions to society.

On January 22, Mr. Vo Van Thuong, First Secretary of the Youth Union Central Committee, decided to award a certificate of merit to Dan and Tinh for their bravery.

According to railway officials, if Dan and Tinh hadn't stumbled upon the scene and acted as they had, a terrible accident would have taken place. There were more than 1,000 passengers and staff on train SE1 that night.