The deforestation of hundreds of hectares of primitive forest in Tam My Tay Commune, Quang Nam Province, has caused obvious consequences to the water source of Phu Ninh Lake, as well as the existence of troops of gray- shanked douc (Pygathrix cinerea). Such logging has been reported to have happened for some years now, leading to people questioning why local authorities have stood by and done nothing to rectify the situation.

Disguising themselves as loggers, a group of SGGP reporters, one day in early July, went to Tam My Tay to see the deforestation for themselves.

In front of us was a vast area of bare forests with large chopped tree trunks lying on the dark brown land mixed with gray ash, the traces of lumberjacks' burning trees in the region.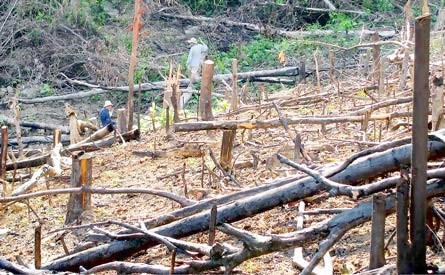 Loggers illegally fell trees in Tam My Tay Commune
A local acted as our guide and said that although the province's municipal government has issued policies stipulating that any agency, organization, business or individual found to be illegally logging will face heavily fines and be required to cover the costs of reforestation, the "forest holocaust" is still increasing at an alarming rate.

The problem is that violators are willing to pay fines and replant the destructed areas, as the fines and replanting expenses are much lower than the fat profits they gain from the sale of illegally –exploited timber.

The local guide said, "It's estimated that more than 20 hectares of forests have been devastated. Some real bastards have taken advantage of the government's road building in the area. They've driven trucks and tractors into the forests to illegally cut down trees for logs."

So, who is behind this illegal business? The locals said they are all rich people from other provinces or high-ranking officials of the hamlet or commune. They hire a local man who used to be ringleader to look after the business for them.

They explained, "We are all poor people. How can we have enough money to buy trucks and tractors and pay for the lumberjacks?

"From 5pm every day, many trucks take turns to transport the illegally exploited logs out of the forests on the single road that links them with the highway.

"The road," they added, "ironically, runs past a common station for forest rangers, police forces and taxation authorities, but we don't know why local authorities have so far acted as if they didn't know anything about such a crime."

They said that they are indignant with the deforestation, but dare not do anything. "The lumberjacks will be out for our blood if they know that we've denounced their illegal activities with the police or authorities."

We asked Dinh Hong Than, deputy head of the Nui Thanh Forestry Management Office, whether or not local authorities know anything about the deforestation and who will take responsibility for letting it happen.

Mr Than said, "It is local forestry officials' fault for not having discovered the violation in a timely manner. At present, the province's Department of Agricultural and Rural Development has instructed us to make investigations into the case to find the culprits.

"We'll take legal action against them once we've collected enough cases and criminal evidence," said Mr Than. "We are now tracking down the real culprits, but it's hard for us, as no one will come forward and claim responsibility for the wrongdoing."

Replying to a question that some local high-ranking officials may have a hand in the deforestation, Mr Than replied, "Lumberjacks can't destroy forests if local officials don't wink at them."

Nguyen Thanh Quang, director of the Quang Nam Department of Agricultural and Rural Development, however, blamed the responsibility for local government and forestry rangers' loose management. He said, "They've shunned their duties in protecting the forests."

He emphasized that in the event local authorities cannot find the culprits, the department will instruct municipal authorities and forest rangers, at all levels, to replant the devastated areas. Anyone who cuts down trees in such areas will be arrested and prosecuted.

The point is whether or not local government will do what they have said they will do. Local people are waiting for their prompt action against the forest holocaust, as their lives depend on the supply of water from Phu Ninh Lake.

Related article:
VN's douc face risk of extinction due to deforestation