The central coastal province of Quang Ngai has given permission to widen the excavation area for search of antiques from the centuries old shipwreck in Chau Thuan area in Binh Chau Commune in Binh Son District.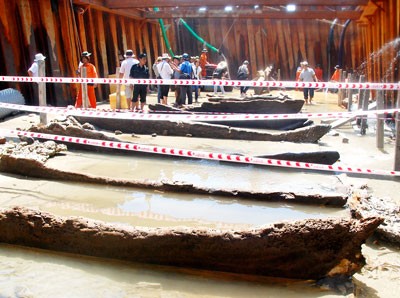 Many antiques were found from the shipwreck. (Photo: SGGP)
According to Doan Sung of Doan Anh Duong Company that is in charge of excavating antiques from the shipwreck, after hauling the ship out of the sea they will document all the antiques and expand area of search as well.
This area had been earlier planned for construction of the Dung Quat 2 Deep Seaport. Thus the provincial Department of Culture, Sports and Tourism has proposed that local authorities give an urgent nod to excavation of these priceless cultural relics and artifacts in the area.
Thousands of antiques dating back to the 13th century were found in the 700-year-old shipwreck, believed to have been sunk by a storm.
Experts think the ship will be pulled out of the sea soon, to be displaying at the Museum for Public and Scientific Research.
Quang Ngai General Museum has cooperated with Visal Company to collect hundreds antiques including pottery, bronze and stone items dating back to the 15th-17th century in 1999, said Dr. Doan Ngoc Khoi, Deputy Director of the Museum.
Locals had also earlier discovered other wrecked ships with antiques in the Binh Chau area. Experts believe that Quang Ngai was a link for the maritime silk route in the past.