Authorities in the central province of Quang Ngai have just signed a decision to establish a 7,900ha sea reserve off the coast of Ly Son island and Binh Chau commune.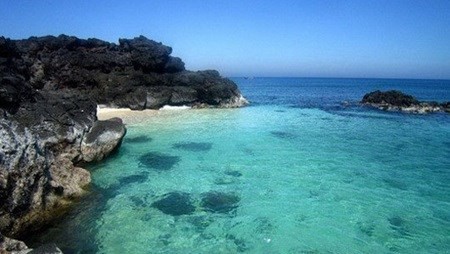 The reserve area aims to maintain and protect sea resources and biological varieties. (Photo: VNA)
The reservation includes three functional areas. These are the strictly reserved area, area for ecology restoration, and the area for development and a protection belt.
The total budget required for the reservation area between 2015 and 2020 is more than 33.8 billion VND (1.5 million USD).
Nguyen Dang Vu, Director of the provincial Culture, Sports and Tourism Department, said they have been compiling scientific data and documents to cement the area's status as a national and global Geopark.
Two years ago, two trading vessels that were used about 700 years ago were discovered off the coast of Binh Chau in Binh Son district.
Ceramic and stone artefacts from an old shipwreck were also discovered during a deep water excavation near the islet of An Binh, located 3km from Ly Son island.
Archaeologists believe the ceramic pieces date back to the 15th century, while the stone fragments are thought to come from the Cham Pa Kingdom in the 13th century.
According to local authorities, the reserve area to be established aims to maintain and protect sea resources and biological varieties, and facilitate economic development and ecological tourism, while sustainably using local aquatic resources.