The High Quality Vietnamese Goods Fair 2011 is being held at the exhibition center in Quang Ngai Province.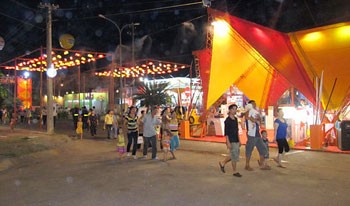 High quality Vietnamese goods fair 2011 in Quang Ngai Province. (Photo: Quang ngai Newspaper)
A wide range of products are on display in 300 booths by approximately 120 enterprises nationwide, including household appliances, utensils, construction materials, interior decoration, stationery, sports, food and pharmaceuticals, garments, cosmetics and handicrafts.
The fair is an excellent opportunity for businesses to promote their products and help producers and wholesalers to connect with retailers in the region.
The event is being co-organized by the Quang Ngai Department of Trade and Industry, Vietnamese product trade and services Company and the Vietnamese High Quality Goods Club.
The fair will run until July 24.