The People's Committee of Quang Ngai Province yesterday held a meeting to assess the damage caused by a fire that gutted the entire Quang Ngai market, and provide VND5 million(US$240) as initial compensation to each trader who suffered losses.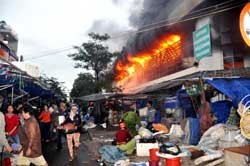 People evacuate goods from their temporary stalls while fire fighters attempt to reach a blaze at Quang Ngai City Market (Photo:VNA)
So far the estimated loss caused by the fire has been calculated at around VND200 billion (US$9.6 million). The Quang Ngai Agricultural Products Joint Stock Company will give a total of VND4 billion ($1.92 million) to support traders, with each receiving VND3 million for the next three months.
The Quang Ngai Province authorities have asked related units to assess the damage incurred by each trader and also help salvage and protect undamaged goods.
The Vietnam Fatherland Front Committee has called for aid to assist those who have lost much in the fire.
After assessing the damage, the provincial authorities will work with the tax department and banks to reduce tax, offer tax free benefits and offer loans to traders to help them recover their losses.
The authorities will also give VND28 billion ($13.4 million) to the Department of Industry and Trade and the People's Committee of Quang Ngai City to implement measures to stabilise prices.
Vo Van Thuong, secretary of the Province Party Committee said that the province needs to first help stabilise the traders and then make plans to rebuild the market. The province also needs to learn from experience and improve their fire prevention methods, he added.
While the police have been asked to investigate into the cause of the fire, Quang Ngai City is looking to temporarily relocate shops, so that businesses can resume trade within a month.
According to Ngo Van Tuoi, director of the Quang Ngai Agricultural Products JSC, a management unit of Quang Ngai Market, there are 424 traders running businesses in the market and the total damage has been estimated so far at about VND200 billion ($9.6 million).
Related article:
Fire guts entire market in Quang Ngai Province