The People's Committee of Quang Nam Province has sent an urgent appeal to ministries and central departments to send in experts to survey and conduct a detailed study of the earthquakes that are continuing to reoccur in Bac Tra My District, particularly over the last few days.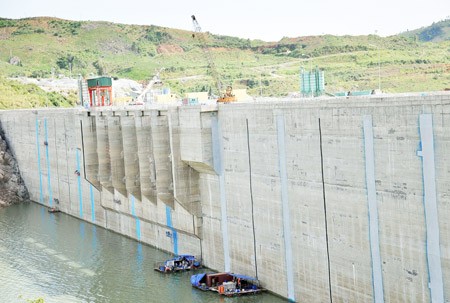 Song Tranh 2 Hydropower Plant dam (Photo: SGGP)
The committee also asked the various authorities to inspect the current operations at the Song Tranh 2 Hydropower Plant and rule out any danger to the dam.
The provincial authorities have instructed the Department of Science and Technology, the People's Committee in Bac Tra My District and other relevant departments to closely monitor earthquake conditions and timely repair any damage caused as a result.
Associate Professor and Dr. Nguyen Hong Phuong, deputy head of the Earthquake and Tsunami Warning Center at the Institute of Geophysics, said that the institute has imported five quake observation machines and will install them at five different locations in Quang Nam Province.
The equipment will begin to provide data on earthquakes by the beginning of next month.
Deputy Prime Minister Hoang Trung Hai recently met with ministries and local and central departments to discuss issues such as earthquakes and the safety of the Song Tranh 2 Hydropower Plant.
After the meeting, he decided that it was not safe to allow water to accumulate in the plant reservoir and asked relevant authorities to continue to study the impact of flooding and earthquakes to the plant.
Related articles:
Four tremors in 14 hours rattle Quang Nam Province