The central province of Quang Nam held a conference on March 26, calling for investments in the automobile support industry, garment-textile, and entertainment services in coastal areas, hi-tech agriculture, and pharmaceutical industry.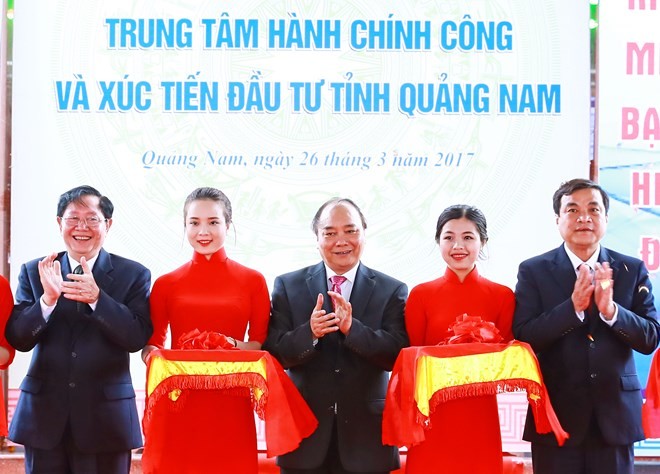 PM Nguyen Xuan Phuc attends a ceremony to launch the public administrative and investment promotion centre in Quang Nam (Photo: VNA)
Addressing the event, Prime Minister Nguyen Xuan Phuc said Quang Nam has its own natural advantages to attract investors, such as favourable geography, rich forest and marine resources, and good infrastructure.
The province has successfully lured 4.5 million tourists per year, nearly 70 percent of whom are foreigners. The figure could be 10 or 15 times higher if the locality works to promote tourism and build its brand name, he said.
He evaluated that the local business environment has become more attractive and stood in the country's top list.
The PM asked local authorities to put forth more policies to draw big and highly-competitive businesses.
To obtain sustainable development, Quang Nam needs to diversify its budget collection, arrange population appropriately, and improve the efficiency of infrastructure investments, while making effective use of rivers, and have long-term vision and planning schemes, he suggested.
Additionally, the province should improve infrastructure quality so as to connect with other neighbours, like Da Nang and Quang Ngai, he said.
He and other officials witnessed the hand-over of investment certificates and decisions as well as banks' investment credit pledges to projects, totaling around 15.8 billion USD. 
The same day, the PM attended a ceremony to launch the public administrative and investment promotion centre in Quang Nam, the second of its kind nationwide, after the first pilot one in the northern province of Quang Ninh.
He later participated in a ceremony to kick-start the construction of the THACO-Mazda automobile manufacturing plant at Chu Lai Open Economic Zone in Nui Thanh district.
The project worth 12 trillion VND (equivalent to 520 million USD) is expected to be put into operation in April 2018 with a designed capacity of 100,000 cars per year.
The PM said the Government will create all favourable conditions to develop the automobile support industry.
He also took part in a ceremony to commence the building of a Vinpearl tourism resort complex in Thang Binh district.
Quang Nam has so far attracted 126 foreign direct investment (FDI) projects capitalized at nearly 5.5 billion USD. In 2016, the province granted new investment licenses to 17 FDI projects worth around 122.8 million USD.