The fossil of a tree with the date of thousands years ago has been discovered near the Thien Duong ( Paradise ) Cavern tourist site in the central province of Quang Binh.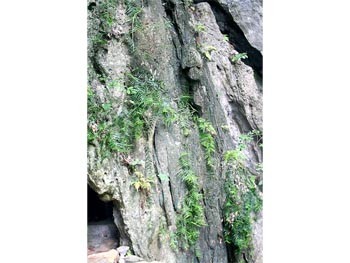 A part of the fossil tree discovered in Quang Binh Province (Photo: SGGP)
Scientists found the fossil tree about 20 meters of the cavern, said Vo Minh Hoai, general director of Thuong Thi Group, which manages the tourist site.
The tree, with a diameter of nearly 10 meters and height of the same number, clings to a limestone mountain side, discovered by a group of Russian scientists who were studying plants on the area.
Other plants are found parasitizing on the fossil tree with most of them being ancient ferns.
The fossil tree is expected to provide important data for scientists to study the plants in the central region.