Deputy Prime Minister Hoang Trung Hai requested the National Oil and Gas Group (PVN) to continue to search for new sites, and produce more oil and gas in 2016.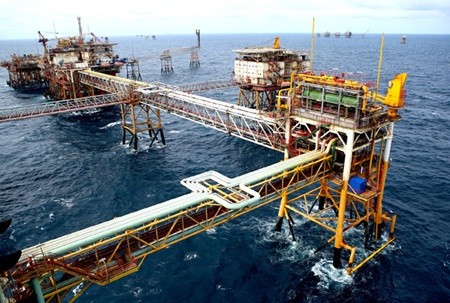 Deputy Prime Minister Hoang Trung Hai requested PVN to continue to search for new sites, and produce more oil and gas in 2016. (Photo: VNA/VNS)
He described these activities as a key task for the sector in 2016.
Speaking at a conference in Ha Noi on Saturday, the Deputy PM praised the group for its achievements during the last five years, and suggested that an even greater future effort will see greater results.
He said PVN also needed to keep a close watch on market developments to provide reasonable forecasts of oil prices for 2016 and in the future, adding that the group should pay attention to cutting expense to optimise its operation.
PVN was also advised to focus on expanding scientific and technological applications, and fully taking advantage of its high-quality workforce.
Hai asked PVN's subsidiaries to make concrete plans for the group's business management, and to improve the qualifications of its staff.
PVN's General Director, Nguyen Quoc Khanh, reported that the group still earned VND560.1 trillion (US$25.56 billion) in revenue in 2015, in spite of falling oil prices, representing a rise of 4 per cent against the set target, and 2.4 times higher than earnings from 2006-2010.
Also, the group contributed VND115.1 trillion ($5.2 billion) to the State budget this year, up 19.8 per cent against the year's target.
PVN also fulfilled its plan to increase reserves for the two months ahead of schedule, reaching 40.5 million tonnes of oil equivalent, 8 per cent higher than its yearly target.
Further, its exploitation output reached 29.42 million tonnes, exceeding 10.6 per cent of the plan set by the Government. Of this number, crude oil reached 18.75 million tonnes, while gas exploitation hit 10.67 billion cu.m, respectively up 11.6 per cent and 9 per cent against its yearly plan.
Petrol, electricity and nitrogen production also recorded high growths, exceeding the set plan by 10 to 24 per cent.
Khanh stated that PVN would continue accelerating its restructuring and divestment capital, while increasing investment for its key business and production projects in 2016.
It will also expand coordination with relevant agencies in exploring and developing deep water and offshore areas, he said.