HA NOI (VNS)— The Ministry of Home Affairs recently completed a draft Decree on staff restructuring and reductions, which is to be implemented through 2020.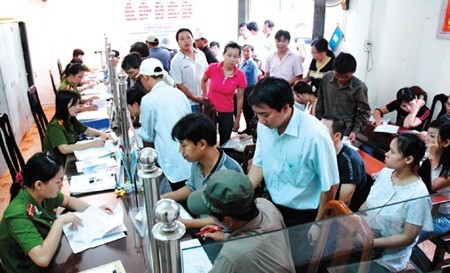 Ha Noi's Hai Ba Trung District Police receive local citizens. A total of approximately 100,000 employees of State-owned limited companies and State organizations will be let go following the Ministry of Home Affairs' recent draft decree.—VNA/VNS Photo
The draft decree, expected to cost VND8 trillion (US$380.95 million), has been made available for public feedback.
Those subject to the decree include not only permanent public employees, but also leaders and managers of State-owned limited companies and of State organisations.
The draft decree was a revision to Decree 132, which failed to take effect, in practice, and expired in 2012.
The Ministry of Home Affairs said it is seeking to reduce staff who failed to work effectively and restructure its staff arrangement with the issuance of the decree.
In particular, the ministry will cut down on public employees whose performance fails to meet the professional standards required for their positions; whose skills and background knowledge are not suitable for their current positions and not needed for any other position arrangement; who are assessed by their direct superior as incompetent employees for 1-2 years; and who took leave due to sickness for at least 30 days a year in two consecutive years.
Tran Anh Tuan, Deputy Minister of Home Affairs, said the assessment of staff competency would be performed by an employee's direct superior.
He added that the decree would be strictly implemented to ensure the remaining staff operate effectively.
Professor Nguyen Huu Khien, from the Ministry of Home Affairs' Institute for State Organisational Sciences, told the News (Tin tuc) that he saw fewer possibilities for success using the decree because its criteria for letting go of employees remain generic.
Khien said it was not a simple task to assess an employee as having failed to fulfill their responsibilities.
He also said if a person is placed in a position that their background knowledge and skills are not suited for, the first responsibility should be placed upon those who recruited that person.
He added that leaders of public organisations or companies should be empowered to assess their employees and make decisions regarding their position and treatment. At the same time, they should be disciplined for ineffective recruitment and staff management.
This way, employees will be encouraged to contribute more actively, he added.
Khien noted that the public system ended up overloaded with employees because of unclear methods of recruitment.
"The public system is like a passenger bus that is capable of carrying only 45 people, yet is stuffed with 60-70 people," he said.
Dr Vu Van Thai, former head of the Ministry of Home Affairs' Department of Organisation and Personnel, told the News that to make staff reductions effectively, each organisation should determine the number of employees required for different positions.
"Each organisation should recruit the exact number of eligible staff they need, and cut down the rest," he said.