The National Assembly this morning passed a resolution on the national financial plan in 2016-2020, approved by 86.64 percent of NA deputies.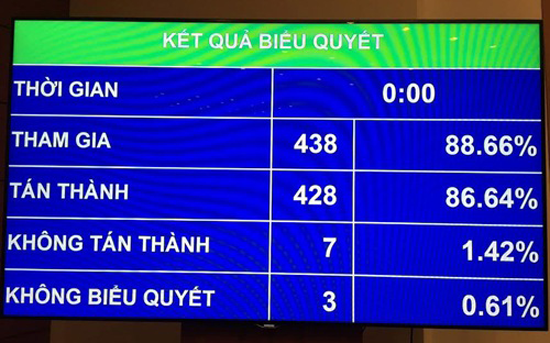 The photo shows voting results on the NA resolution in the phase of 2016-2020
According to the resolution, public debts must not exceeded 65 percent gross domestic product (GDP), government debts not go beyond 54 percent and the country's foreign debts not top 50 percent GDP.

The country's foreign debt payment obligation will be less than 25 percent of total export import turnover. Government's direct debt payment will not be higher than 25 percent budget revenue annually.

Formerly, the Standing Committee of the National Assembly reported that public debts quickly increased during the phase of 2011-2015 with the annual growth rate of 18.4 percent to near the permissible level of 65 percent GDP. That did not ensure national financial security and safety, it said.

In the phase of 2016-2020, the NA proposed the Government to tightly control debt levels as per the resolution.

The standing committee said that capping government debts at 53 percent as per proposal by many deputies was very difficult because it has exceeded the limit to touch 53.2 percent this year.

Hence, the committee proposed the NA to permit the rate of 54 percent to ensure national financial security and rationality in management.

The resolution also approved some other important targets in the next five years including budget revenue of about VND6,846 trillion (US$306.51 billion), up 1.65 times over the last five year period.

Total budget spending will approximate VND8,025 trillion ($360.03 billion). Of these, spending on development investment will account for 25-26 percent and regular spending will reduce to below 64 percent. Budget priorities will be given to debt payment and national reserve.

Talking about salary increase, the committee said that the Government had made great efforts amid budget revenue difficulties and capital pressure for development investment, debt payment and social welfare. However they had yet to obtain set targets.
  
The Government should submit to the NA a proposal for a 7 percent increase in base salary, retirement pension and allowances to those under the state's preferential treatment polices in the next five years.

The NA will base on actual situation to consider the salary increase in annual budget estimates.