Authorities in provinces and cities across the country have set out to implement a string of measures to reduce traffic accidents, according to the National Committee on Traffic Safety.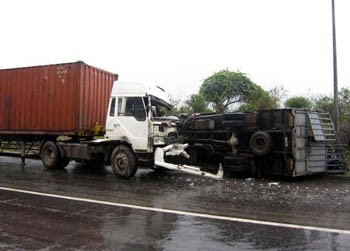 (File) Undated file photo shows an accident south of Hai Van Tunnel in Da Nang City in central Vietnam (Photo: SGGP)
Thanh Hoa Province has the involvement of both political units and local residents who are participating in programmes to ensure traffic safety on their roads.
Efforts have been made to remove vulnerable 'black spots' that cause traffic accidents in Thua Thien-Hue Province. Specifically, authorities have installed soft stakes to divide lanes, set up speed limit signs, placed warning signs along sections most susceptible to accidents, built speed breakers, broadened curves and improved steep hill roads leading to mountain passes.
The traffic safety committee in Hai Duong Province has also asked relevant authorities to monitor and handle traffic violations on highways, especially drunken drivers and those encroaching into lanes.
Provinces with the most reported cases of traffic accidents like Ha Tinh, Nam Dinh and Kon Tum are also taking measures to curb road accidents.
According to the Road and Rail Traffic Police Department, during the first six months of the year, the country had 23,000 road traffic accidents killing 5,662 people and injuring 25,600.
On an average each month, 1,000 people die and 4,000 are injured in traffic accidents in Vietnam.
Between July 9 and 11, just three days, a total of 78 traffic accidents were reported across country, leaving 63 dead and 44 wounded.
The traffic police revoked the driving licenses of 122,400 persons and confiscated 9,500 automobiles and 289,000 motorcycles in the first six months of this year.
They also slapped fines on 297,000 motorcyclists driving without helmets, 24,600 drivers who failed to pass the breath test and 1,100 others driving with false driving licenses.