Tens of households tried to block the ongoing river dredging project with their boats in Nui Thanh District in the central province of Quang Nam, which has been in process since 2009 to open an entry route to Ky Ha Port.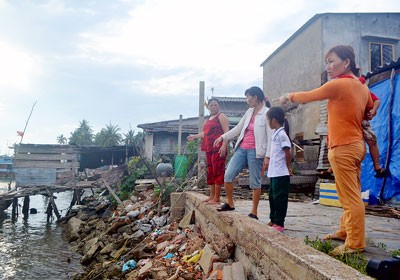 Riverside households complain that construction of an entry route to Ky Ha Port has caused cracks and subsidence to their houses in Nui Thanh District in Quang Nam Province (Photo: SGGP)
Local people were protesting against the project, whose investor is Ky Ha-Chu Lai Investment and Development Company, saying this has increased riverbank landslides and damaged their houses.
Do Thi Nga, a 36-year-old local woman in Tam Hai Commune, said that since work began to dredge the river, tens of houses located along the river banks are now facing cracked walls and sunken foundations.
Le Thi Cong from the same commune said that they have reported the matter to local authorities who have done nothing about it so far.
Another reason for the protest is that the compensation policy to local fishermen, whose livelihood is affected by the project, has not been fair.
Several people have quit fishing for several years but are still listed for compensation, while several others who actually earn their living by fishing have not been either compensated or paid too little.
Tens of households in Tam Hai Commune have complained to different local authorities, but they have not solved the issue.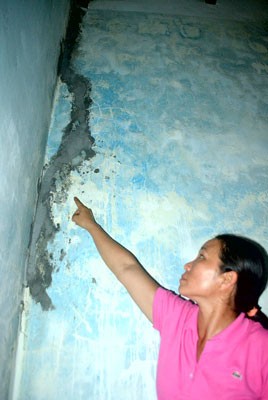 A crack in a house in Tam Hai Commune of Nui Thanh District (Photo: SGGP)
Huynh Thi But, a commune resident, said that she and other local people have investigated and listed tens of cases showing unfair compensation and have sent their list to the provincial Police Department, with no proper response.
Meantime, tens of others listed for compensation have yet to see their money.
Huynh Buu, deputy director of Ky Ha-Chu Lai Company, said that the provincial inspector and police forces have investigated the compensation process and announced results to residents, but about 16 households are still refusing to receive their money as they feel the investigation has been inaccurate. 
The management board of the Chu Lai Economic Zone has instructed relevant organs in Nui Thanh District to investigate and address cracked and sunken houses to soon resolve this issue.