The People's Committee of Ca Mau Province, the southern most tip of Vietnam, plans to invest nearly VND200 billion (US$9 million) to build an embankment to protect the Ca Mau cape area from further landslides.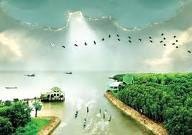 Ca Mau cape area
The ferro-concrete bank will help prevent erosion caused by sea waves and further loss of land. In addition, the province authorities will plant suitable forest and vegetation along the embankment to prevent land from slipping into the sea.
The Ca Mau cape area has already lost about 25-30metres of land. The local government plans to implement the construction work immediately.
The province authorities will utilize VND7 billion from the provincial budget, whereas the remaining capital is expected to be mobilized from enterprises and organizations.