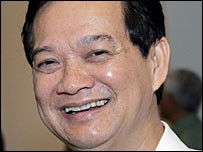 Vietnamese PM answers questions posted on the government's website on February 9
Vietnamese Prime Minister, Nguyen Tan Dung, will answer questions posted on government's websites on February 9, said the Editor-in-Chief of the government website, Pham Viet Dung Thursday.
The Prime Minister will field questions from the general public on economic growth, administrative reform, corruption fighting, sustainable integration and development. 
The question period will take place between 9 and 11 a.m. Answers to questions will also be posted to www.chinhphu.vn, www.cpv.org.vn, www.vietnamnet.vn, or www.vtv.org.vn.
The government office will release an e-mail address to send questions to on January 24.