Prime Minister Nguyen Tan Dung agreed to implement policies after receiving recommendations of functional agencies, with aims to create advantaged conditions for development of Da Nang city in his visit to city on April 14.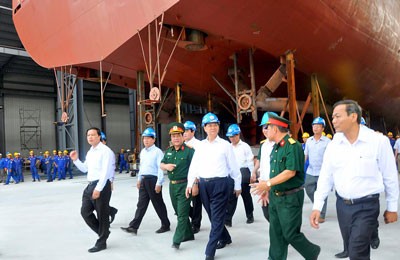 Prime Minister Nguyen Tan Dung visits Song Thu Shipyard company in Da Nang (Photo:SGGP)
Chairman of the People's Committee of Da Nang city Van Huu Chien reported the achievements and challenges of city in the fields of economy, society, education and public health in the recent years.
On this occasion, Chairman Chien suggested Prime Minister asks relevant ministries, agencies to promulgate quickly some financial structures, incentive budgets for city.
Some entertainment areas, casino for foreigners in the international standard tourist areas will be opened soon at Da Nang city, suggested by the Chairman Chien.
Moreover, the city hoped that the government gives priority for the city in mobilizing, attracting foreign investment. Besides, city also expressed the pleasure the government will support city to upgrade hospitals.
Da Nang city also received feedbacks from Prime Minister Nguyen Tan Dung. Particularly, Mr. Dung asked relevant departments, authorities to implement soon the policies as well as to request the Ministry of Planning and Investment to release funds for upgrading some local hospitals.
Prime Minister Nguyen Tan Dung praised the achievements of city in the recent years. He hoped that Da Nang will continue to exploy its own strong points and further develop.
On the same day, Prime Minister Nguyen Tan Dung also had a meeting and exchanging ideas with the CEOs and workers at Song Thu Shipyard Coporation in Da Nang .