Prime Minister Nguyen Tan Dung on Wednesday hosted a banquet for members of the foreign diplomatic community in Ha Noi to mark the 62nd anniversary of Viet Nam's National Day (September 2).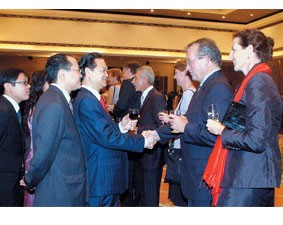 Prime Minister Nguyen Tan Dung (3rd, L) shakes hands with foreign diplomats at the banquet on Aug 29

The PM relayed to his guests the hardships the Vietnamese people endured in order to gain independence and reunification and stressed the country's appreciation for the assistance that has been afforded by the international community.

He also called on ambassadors, charge d'affaires, chief representatives of international organizations and members of the diplomatic corps to take an active part and lend a helping hand to the country's on-going renovation.

Argentine Ambassador Tomas Ferrari hailed Viet Nam on its admission to the World Trade Organization and praised it as a huge step in its transformation into a market economy.

The ambassador reaffirmed the corps' determination to aid Viet Nam in further strengthening ties with other countries and international organizations.