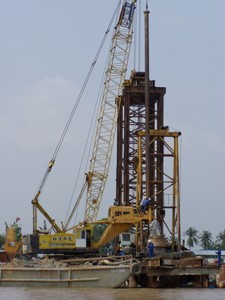 File photo shows the construction of a bridge in the Mekong province of Tien Giang (Photo: T. Thuy)
Vietnamese Prime Minister Nguyen Tan Dung has approved a master plan for transport development for the Mekong Delta region until 2020 and a vision for 2030.
Under the master plan, the region would see a volume of 450-500 million of passengers a year by 2020, and airports in the delta would handle about 11.8 million passengers per annum.
In Can Tho City, a Mekong Delta hub, public transport services would handle 10-15% of demand while the rates in other cities are 5-10%.
Goods transportation would be up to 100-110 million tons per year, equal to an 8.1% growth. This target includes seaport loading and unloading of 58.5 million tons per year by 2020.
The master plan features five major transportation corridors namely Ho Chi Minh City-Can Tho-Ca Mau; Ho Chi Minh City-Long Xuyen (An Giang Province)-Rach Gia (Kien Giang Province); HCM City-Ha Tien (Kien Giang); Can Tho-Long Xuyen-Chau Doc(An Giang); and Ha Tien-Rach Gia-Ca Mau.
The development plan includes the construction of a four-lane expressway between My Thuan and Can Tho of more than 32 km. Following would be other expressways between Can Tho and Ca Mau, Chau Doc-Can Tho-Soc Trang, Ha Tien-Rach Gia-Bac Lieu, and Ngoc Hoi-Chon Thanh-Rach Gia in Kien Giang Province.
Other goals set by the master plan include by 2015, all of the communes would have automobile roads leading to the commune centers; islands surrounded by rivers must have ferry services if bridges have not been built.