PrimeMinister Nguyen Tan Dung has affirmed that consolidating and strengtheningfriendly and cooperative ties with China is a consistent, long-term andstrategic policy, and one of the top priorities of the Vietnamese Party, Stateand Government's foreign policy.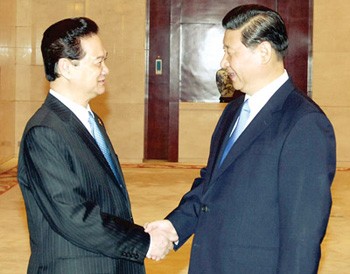 Vietnamese PM Nguyen TanDung shakes hands with Chinese Vice President Xi Jinping in Nanning on Sep. 20,2012.
Mr.Dung made the affirmation while meeting with Chinese Vice President Xi Jinpingyesterday after arriving in Nanning, the capital of China's Guangxi Zhuangautonomous region, to attend the 9th ASEAN-China Expo (CAEXPO) and China-ASEANBusiness-Investment Summit (CABIS).
Mr.Xi applauded Mr. Dung's attendance, which, he said, demonstrated that theVietnamese Party and State attached importance to strengthening the strategiccooperation partnership between Viet Nam and China, and reflected Viet Nam'ssupport for CAEXPO and CABIS, contributing to the China-ASEANcooperation.
Marking China's 63rd National Day, theVietnamese PM congratulated the Chinese government and people on the greatachievements they have made under the leadership of the Communist Party of China(CPC) over the past 63 years. He also wished the upcoming 18th National Congressof the CPC success.
Both leaders said they highly valued theoutcomes of Party General Secretary Nguyen Phu Trong's visit to China in October2011, Vice President Xi Jinping's visit to Viet Nam in December 2011 and mostrecently, the meeting between Vietnamese President Truong Tan Sang and ChineseParty General Secretary and President Hu Jintao on the sidelines of the 20thAsia-Pacific Economic Cooperation (APEC) Summit in Vladivostok, Russia earlierthis month.
The two sides will boost the practical and mutually beneficialcooperation in all aspects, particularly in economics and trade; strengthenrelations between ministries, agencies and localities,and people-to-peopleexchange activities; enhance cooperation in regional and international issues;and promote communications on the friendship between the twopeoples.
They also agreed on the need to persistentlymaintain peace and stability in the East Sea and satisfactorily resolve everyissue through peaceful negotiations.
PMDung stressed that both sides seriously implement common perceptions of the twocountries' high-ranking leaders and strictly abide by the agreement on basicprinciples guiding the settlement of sea-related issues, as well assatisfactorily resolving disputes and newly emerging issues through peacefulnegotiations, on the basis of international law.
Onbehalf of the Vietnamese Party, State and Government, PM Dung invited Xi tovisit Viet Nam following the conclusion of the 18th National Congress of theCPC.
TheChinese Vice President accepted the invitation with pleasure, saying that themaintenance of high-ranking visits and meetings plays an important role incontinuously strengthening and consolidating the relations between the twoParties, States and peoples.
Guangxico-operation
Onthe same day, Prime Minister Dung had meetings with Party Secretary of GuangxiProvince Guo Shengkun and Chairman of the province Ma Biao.
Hecongratulated the Guangxi Zhuang autonomous region on the success of the 10thGuangxi Zhuang Regional Party Congress.
ThePM also highly appreciated achievements made by the province during itsrenovation, its openness and socio-economic development, and its role in holdingthe CAEXPO and CABIS.
Theprovincial leaders expressed their pleasure at recent progress in relations withViet Nam's localities, especially those that shared the border with theprovince.
They affirmed that the provincial party,authorities and people would make efforts to boost friendship and comprehensiveco-operation with Viet Nam's localities for mutual benefit.
Mr.Dung expressed his pleasure at growing relations between Viet Nam's ministries,sectors and localities and the province, that had contributed to friendship andunderstanding between the two peoples.
Heaffirmed that Viet Nam's Party and Government would continue to give theirsupport to deepening the two countries' relations for mutual benefit betweenViet Nam's localities and Guangxi Province.
Hestressed that the two sides needed to focus on the guidance of the twocountries' top leaders in strengthening their co-operation in economy, trade andinvestment in all fields based on their strengths and potential, as well asfacilitating border trade activities.
Healso suggested the two sides should increase delegation exchanges at all levels,especially the youth, and continue to co-operate with each other to set up apeaceful, friendly, stable, co-operative border line.