Prime Minister Nguyen Tan Dung yesterday assigned key tasks for the country's agriculture sector this year and the next five years while attending a conference in Ha Noi to review the sector's 2015 performance and implement this year's development plan.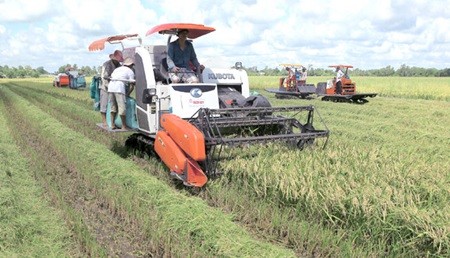 Farmers harvest rice in Vi Trung Commune, Vi Thuy District, Mekong Delta Province of Hau Giang. Prime Minister Nguyen Tan Dung has applauded the agricultural achievements of last year and called for further reforms in agriculture, one of the main pillars of Viet Nam's economy. (Photo: VNA/VNS)
Dung applauded agricultural achievements despite economic difficulties shared with other industries and its typical difficulties like extreme weather, falling prices of farming products and tougher competitions.
"During economic slowdown, agriculture is always a main pillar of the country's socio-economic development," Dung said.
He asked the agriculture ministry and relevant agencies to attach importance to improve the legal framework and review policies, strategies and planning to better support farmers and firms as well as crack down on violations.
Dung called for drastic reforms in which promoting the application of science and technology is the decisive factor.
He urged the sector to build specific mechanisms and policies to facilitate the application of science and technology to increase productivity, create high-quality and competitive products, and improve farmers' incomes.
The PM also suggested multiplying integrated production models towards large-scale production with high efficiency to enhance competitiveness in the context of integration.

Khanh Hoa: $95 million for new-style rural area
The central coastal province of Khanh Hoa will allocate over VND2.15 trillion (about US$95 million) for its new-style rural area building from now to 2020, according to its programme coordination office.
In the period from 2011 to 2015, Khanh Hoa spent nearly VND1.2 trillion ($53.3 million) on the new-style rural area building. The province now has 22 out of its 94 communes meeting all 19 new-style rural area criteria. On average, each commune has fulfilled 12 criteria.
The national target programme on building new-style rural areas, initiated by the Government in 2010, sets 19 criteria on socio-economic development, politics, and defence, aiming to modernise rural areas.
The criteria cover the development of infrastructure, the improvement of production capacities, environmental protection, and the promotion of cultural values. The country aims to have 50 percent of all communes nationwide meeting all the requirements by the end of 2020. 
Source: VNS
Special attention should be paid to restructuring State-run farm and forestry enterprises as well as developing infrastructure in rural areas and encouraging businesses to invest in the countryside, he said.
At the same time, the Government leader required continued efforts to implement the national target programme on building new-style rural areas, with the focus on renovating production models in rural areas to increase farmers' income and mobilising social resources for investment in rural areas.
Coping with natural disasters would be another important task for the agricultural sector, he said, instructing the sector to map out plans on preventing and mitigating the impact of natural disasters, particularly when Viet Nam is forecast to be one of the nations most vulnerable to the consequences of climate change.
Minister of Agriculture and Rural Development Cao Duc Phat said last year, export turnover of Vietnamese farming products was $30 billion, 0.8 per cent lower than that of 2014, mostly because of falling prices.
The cumulative export turnover of agro-forestry-fisheries products reached $141 billion from 2011 to 2015, with an average annual growth rate of 9 percent.
Compared to 2010, the export turnover of these products rose 55 percent to $30 billion in 2015.
Ten exports present in the "$1 billion club" were rice, coffee, rubber, tra fish, shrimp, cashew nuts, pepper, vegetable, cassava and woodwork.
By the end of last year, almost 1,480 communes or 16.5 per cent of the country's total communes are certified "new-style rural areas" which helped boost development of rural areas comprehensively in terms of economic, culture, income and living standards.
In the last four years, nearly VND852 trillion ($38 billion) was spent on developing new-style rural areas.
"The period 2011-15 saw economic difficulties but Viet Nam's agriculture sector achieved a growth rate of about 3.1 per cent and met increased demand for food in both domestic and international markets," Phat said, emphasising that farming helped improve living standards and income in rural areas.
This year, the agriculture sector wanted a growth rate of up to 3.5 per cent and export value of $31 billion.
Minister Phat said that this year would see more restructuring in agriculture to increase value and efficiency of agriculture production.
"More investments are needed for the processing industry, modernising post-harvest storage in order to reduce post-harvest loss and add value for Vietnamese farming products."
Vice chairman of southern Dong Thap Province, Nguyen Thanh Hung, said that last year, the province's agriculture had good news as its mango was exported to Japan – a market that demands high quality products. Some mango processors reached the provinces and helped increase value of this farming product. The presence of poultry-processing firms helped boost the province's duck farming.
He said that the connection between farmers and firms, between production and market, should be tightened to make big changes for agriculture.
He also urged the agriculture ministry to take drastic and stronger actions to curb fake fertilisers and the use of banned chemicals in breeding.