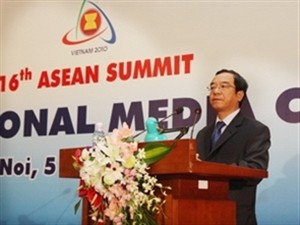 The opening of the International Press Centre for the 16th ASEAN Summit (Photo: Vietnam News Agency)
The International Press Centre (IPC) opened at the National Convention Centre in Hanoi on April 5 to serve the upcoming 16th Summit of the Association of Southeast Asian Nations (ASEAN 16).
Speaking at the opening ceremony, Deputy Foreign Minister Dao Viet Trung said that the IPC will contribute importantly to the success of the ASEAN Summit, the first in the series of events to be hosted by Vietnam as the ASEAN Chair for 2010.
The press centre has a large ballroom which can accommodate 200-300 people and is equipped with Internet-ready computers, docking stations for laptops as well as printers, landline phones and fax machines.
The centre also has a 50-seat press conference room with a simultaneous interpretation system.
Reporters can get in-depth information through press conferences and one-to-one interviews with delegates at the press centre.
More than 600 reporters have registered to cover the 16th ASEAN Summit, slated for April 8-9 in Hanoi. Half of them are from foreign news agencies, including AP, NHK, Reuters and Xinhua.