State President Nguyen Minh Triet extended his best wishes to the staff of the Vietnam Construction and Import-Export Joint Stock Corporation (Vinaconex) in Hanoi on Feb. 11, the ninth day of the Lunar New Year (Tet).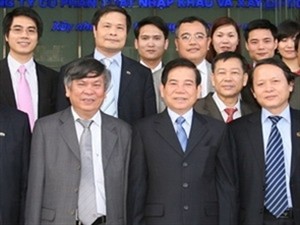 President Nguyen Minh Triet (front, C) poses for a group photo with Vinaconex representatives on Feb. 11, 2011 (Photo: Vietnam News Agency)
President Triet highlighted the efforts of Vinaconex's staff to overcome difficulties and challenges of the global financial and economic crisis to contribute to the city and the nation's development and to be listed among the top group of 500 leading Vietnamese businesses.
Vinaconex is bringing into play its capability, role and contribution to civil and infrastructure construction projects, he said.
He said he hoped Vinaconex would be confident to build itself into a strong unit and to be compared with big regional and world businesses.
Earlier, the President paid a Tet visit to the staff of the Civil Engineering Construction Corporation No. 5 (Cienco 5) of the Ministry of Transport at the construction site of the southern city section and the Thanh Ha residential area.
The 42km section connecting Ha Dong district and the Phap Van-Cau Gie Road is one of the city's strategic projects. The project's first 10 km section and the railway overpass are being carried out.
The same day, the State leader also visited the staff of the Hanoi General Export Import Corporation (Geleximco) to send his best wishes over Tet.