Cambodian leaders pledged to continue supporting the development of traditional friendship and comprehensive cooperation with Vietnam during their separate meetings with State President Truong Tan Sang in Phnom Penh, Cambodia on December 23.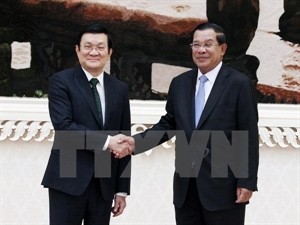 President Truong Tan Sang with Cambodian Prime Minister Hun Sen (Photo: VNA)
President Truong Tan Sang began his two-day State visit to Cambodia the same day.
Cambodian National Assembly Chairman Heng Samrin, First Vice President of the Senate Say Chum, and Prime Minister Hun Sen showed their deep gratitude to the Vietnamese State, Government, and people for helping Cambodian people escape from the Khmer Rouge regime in 1979.
The top legislators and the President were delighted that the growing ties between the two countries contributed largely by the cooperation between the law-making bodies.
They agreed to increase communications campaigns to educate young generations on the tradition of solidarity, friendship, cooperation and mutual assistance of the two countries.
At the meeting with Prime Minister Hun Sen, the leaders concurred to implement fully agreed principles, including the one of not allowing any hostile forces to use the territory of one country to threaten the other's security.
They vowed to make active contributions to peace, stability and development in the region and beyond.
The Cambodian and Vietnamese leaders agreed to push for the early completion of border demarcation and market planting in order to build the shared borderline of peace, friendship, cooperation and development.
The hosts and guest pledged to create all favourable conditions for businesses to forge trade links towards the target of 5 billion USD in bilateral trade in 2015.
They will continue to work closely together at multilateral forums and support the settlement of disputes by peaceful means and in line with international law and regional commitments, while collaborating with other members of the Mekong River Commission (MRC) to ensure the sustainable management and use of Mekong river water resources.
The leaders also discussed regional and global issues of mutual concerns.
Vietnam and Cambodia set up their diplomatic ties in June 1967. Two-way trade reached US$ 3.34 billion in 2013 and US$ 2.6 billion in the first 10 months of this year.
Vietnamese investors are running 134 projects in Cambodia with a registered capital of US$ 3.36 billion, focusing on industrial tree farming, mining, oil and gas exploration, telecommunications, and banking.