Vietnamese President Nguyen Minh Triet welcomed the Olympic Council of Asia President, Sheikh Ahmad Al-Fahad Al-Sabah, in Hanoi on Oct. 30, asking for the OCA's support to Vietnam in hosting regional sports events.
Al-Sabah, also Vice Prime Minister of Kuwait, is in Vietnam for the opening ceremony of the third Asian Indoor Games in Hanoi on October 30.
The host leader showed strong determination to make the event a great success.
"Though still experiencing difficulties economically, Vietnam has always invested considerably in sports in order to ensure that it develops strongly," said Triet.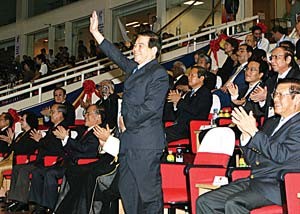 Vietnamese President Nguyen Minh Triet welcomes sport delegations at the 3rd Asian Indoor Games opening ceremony in Hanoi Oct. 30 (Photo: SGGP)
The host and the guest shared the view that Asian sports have made a huge leap in the recent past and will catch up with other continents soon.
OCA President Al-Sabah highly valued Vietnam's efforts in preparing for the third AIG as well as its involvement in major regional sports events as an active OCA member.
He also expressed the OCA's willingness to help Vietnam further develop its sports system.
In regard to relations between the two countries, Triet appreciated cooperation with Kuwait in the oil and gas industry, labor and university education.
"Vietnam looks forward to stronger cooperation with Kuwait," emphasized the Vietnamese President.
His view was shared by Al-Sabah, who said the Kuwaiti Government highly values relations with Vietnam in infrastructure and energy.
Kuwait seeks stronger and more effective cooperation with Vietnam, the Vice Prime Minister of Kuwait concluded.