Vietnam attaches great importance to its relationship with the Non-Aligned Movement (NAM), which is based on a spirit of solidarity and cooperation for common interests, President Nguyen Minh Triet said at the 15th Summit of NAM in Sharm El Sheikh, Egypt, on July 15.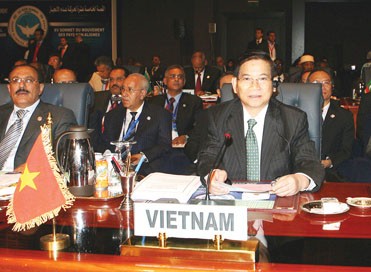 Vietnamese President Nguyen Minh Triet at the two-day 15th NAM Summit in Sharm El Sheikh, Egypt, on July 15 (Photo: VNA)


Under the theme "Solidarity for Peace and Development," the summit was attended by more than 50 heads of state and high-ranking officials from 118 NAM member countries.

The two-day event aims to review the international situation and issues of mutual concern, and discuss measures to respond to the world economic crisis and other global challenges, such as climate change and food security.

Addressing the event, Cuban President Raul Castro Ruz, the current rotating chairman of NAM, called for the setting up a new world financial order.

"Every country must seek solutions for the global economic crisis. We must re-build a new world financial system, in which the needs of developing countries must be taken into consideration," he emphasized.

Speaking at the summit, President Triet said that over the past 20 years of doi moi (renovation), Vietnam has effectively implemented an open diplomatic policy and expanded its relationship with most of countries in the world, as well as with many international organizations.

"Vietnam attaches special importance to expanding economic relations and giving mutual support between the country and other NAM member countries in such fields as agriculture, health and education," the President said.

"The country is ready to exchange experiences with them for the sake of development, including measures to respond to economic and financial crises, maintain growth, stabilize macro-economics and ensure social security," he said.

"Over the past several years, Vietnam has gained great achievements in eliminating poverty, developing social security, and implementing Millennium Development Goals," he added. 

Meeting the Indian Prime Minister, Manmohan Singh, on the sidelines of the summit, President Triet said both countries should step up high-level exchanges through mutual visits and at international conferences, conduct strategic dialogues, and strengthen coordination at international and regional forums.

He also had a talk with Finnish Prime Minister Matti Vanhanen, to whom he called for strengthened cooperation in which favorable conditions will be mutually given to businesses and exports.

The President also wanted both countries to boost two-way trade and seek ways to step up investment in Vietnam by Finnish businesses.