President Truong Tan Sang on Feb. 19 paid a visit to the Nghi Son Economic Zone in Thanh Hoa province, where he inspected construction on Nghi Son Thermo-electric power plant No.1.
The Electricity of Vietnam project covers an area of 350ha with total investment capital of more than 22 trillion VND (1.05 million USD), 85 percent of which is funded with loans from the Japanese Government.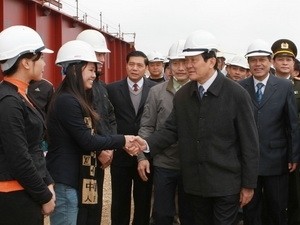 President Truong Tan Sang meets with staff of Nghi Son Thermo-electric power plant No.1. Photo: VNA
At the Nghi Son Oil Refinery, the President was briefed on the progress of the project. In its first phase, the refinery, with an annual capital of 10 million tonnes of crude oil, has investment capital of about 8 billion USD. The refinery will increase its capacity to up to 20 millions tonnes of crude oil per year in its second phase.
During talks with relocated households in Hai Yen commune, one of the areas ceding land to the project, Sang expressed his pleasures at the local synergy.
On the same day, President Sang also worked with key provincial staff.
He praised the province's efforts in recent years, especially in 2011 when it enjoyed economic growth of 12.3 percent and a revenue of nearly 5 trillion VND.
The President noted that the province should use land funds in an economical way, carefully select investment projects and create jobs for local workers.
At the meeting, the province proposed that capital be mobilised towards implementing key projects, including the construction of the Nghi Son Oil Refinery, upgrading of National Highway 1A, the north-south highway route and the development of Ngoc Lac district as a central urban area.
President Sang also paid a visit to the Lam Kinh Historical Site in central Thanh Hoa province's Xuan Lam commune, where Kings of the 15 th century Le dynasty are worshipped.