President Truong Tan Sang has asked the central coastal province of Phu Yen to create strong brands for its finest local products in a bid to boost locals' income.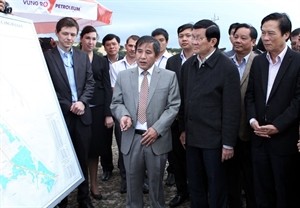 President Truong Tan Sang inspects the implementation of the Vung Ro oil refinery. (Photo:VNA)
The president praised the province for effectively tapping its potential by developing farming of sugar cane, rubber and cassava and successfully implementing an offshore fishing programme, particularly for tuna. However, he urged authorities to make the most of these natural advantages by developing stronger brand names for local products to enhance exports.
Working with the provincial authorities during his visit to the locality from February 21-22, the President also visited the newly-established Phu Dong ward in Tuy Hoa city, and Ea Bia commune in Song Hinh district, where a majority of E De and Ba Na ethnic people are living.
He also inspected the implementation of the Vung Ro oil refinery in Dong Hoa district's Hoa Tam commune.
The 3.2 billion USD project, invested by the UK Technostar Management Ltd, is the largest foreign direct investment in the province.
Construction of the plant, which began in October last year, is scheduled to be completed in 48 months.