President Truong Tan Sang sent letters to two families who helped rescue victims of a burned passenger hydrofoil from Ho Chi Minh City to Vung Tau last month, praising their bravery and kindness.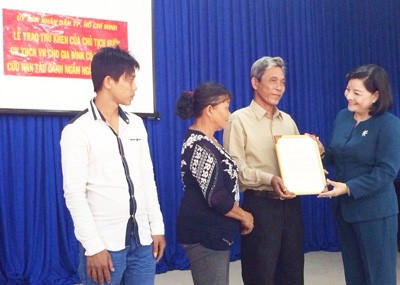 Ms. Nguyen Thi Nhu Thuy, Chief of the HCM City's Emulationa and Reward Commission (R) grands the letter of President Truong Tan Sang to members in the family of Mr. Ngo Van Hong in Can Duoc District, Long An Province on Feb. 5th, 2014.
The letters were grant to the families by Ms. Nguyen Thi Nhu Thuy, Chief of the Ho Chi Minh City's Emulation and Reward Commission on February 5th.

Ngo Van Hong's family live in Can Duoc District of Mekong Delta Province of Long An, and Tran Van Co's family live in Go Cong Town of the neighboring Tien Giang Province.
In the letters, the president praised the courage of locals for their salvation of passengers including foreigners on the fired ship despite danger.
The president wrote that their activities contributed to enlightening Vietnamese tradition of kindness, boosting Vietnam's image in the eyes of international friends.
President Truong Tan Sang hopes that the examples of traditional kindness and bravery will be transferred to young generations.
The two families helped in the very early stages following the incident on January 20th after the hydrofoil of Vina Express Company with 85 passengers suddenly burned and slowly sunk into the water.
They used their boats to rescue and transport victims to banks of Sai Gon river.
The two families were also rewarded by Chairman of Ho Chi Minh city Le Hoang Quan a day after the incident.