Vietnamese President Nguyen Minh Triet has applauded the exchange of experiences between the capitals of Viet Nam and Argentina in urban planning and management, personnel development and bilateral economic, trade and tourism cooperation.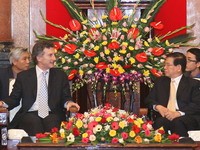 President Nguyen Minh Triet (R) meets with Buenos Aires Mayor Maurico Macri in Ha Noi Monday
President Triet made the statement while receiving Buenos Aires Mayor Maurico Macri in Ha Noi on July 7.
The President said he was pleased with the constant development of the Viet Nam-Argentina relationship and their effective bilateral cooperation on international and regional forums.
He hoped the two countries' businesses would enhance the exploration of their respective markets and promote economic, cultural, educational and health care cooperation.
Viet Nam's economy is opening its doors and ready to welcome foreign investors to cooperate in all domains, President Triet affirmed.
Mayor Macri, who is on a working visit to Ha Noi from July 6-7, expressed the Argentine people's special sentiments towards the Vietnamese people and admiration at Viet Nam's past struggles for national independence and the current socio-economic development achievements.
The mayor said he had proposed to Ha Noi authorities to enhance the exchanges of industrial and agricultural businesses and officials delegations.
Argentina has strengths in agricultural production and processing and is willing to share experiences with Viet Nam in the fields, he said.
He said he hoped Ha Noi and Buenos Aires would enhance cultural exchange activities to celebrate Argentina's 200th National Day and the 1,000th anniversary of Thang Long-Ha Noi.