A statue of President Ho Chi Minh was inaugurated in the Sri Lankan capital city, Colombo, on November 25.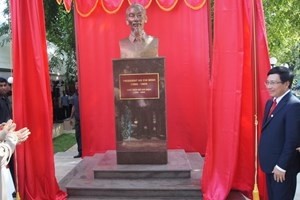 President Ho Chi Minh's statue in Colombo, Sri Lanka (Source: VNA)
Prominent among the guests at the ceremony were Sri Lankan President Mahinda Rajapaksa, Colombo city's Mayor A. J. M. Muzammil, Vietnamese Deputy Prime Minister and Foreign Minister Pham Binh Minh, Deputy Minister of Culture, Sports and Tourism Vuong Duy Bien and Vietnamese Ambassador to Sri Lanka Ton Sinh Thanh.
Addressing the event, President Mahinda Rajapaksa praised President Ho Chi Minh's life and revolutionary cause, affirming that his statue in Colombo will be an eternal symbol of the traditional friendship and fruitful relationship between the two countries.
Sharing the President's views, Deputy PM Minh thanked the Sri Lankan Government and people for their deep sentiments towards the land and people of Vietnam, especially President Ho Chi Minh, a UNESCO-recognised cultural figure.
He highlighted the close ties between the beloved President and Sri Lankan people, saying he visited the island country in 1911, 1928 and 1946.
The statue will remind the two countries' generations to preserve and uphold the relationship, for the interests of the two countries' people, and for peace and development in the region and the world at large, he said.
At the ceremony, Vietnamese and Sri Lankan artists staged performances praising President Ho Chi Minh.