President Truong Tan Sang has asked the Central Highlands province of Dak Nong to make the best use of its potential and strengths while accelerating scientific and technological application for higher and sustainable economic development.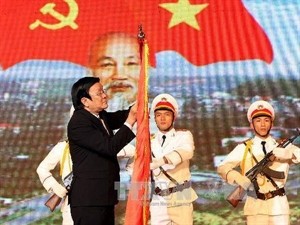 President Truong Tan Sang at the ceremony to mark Dak Nong's 10th founding anniversary (Source: VNA)
The President announced the requirement at a ceremony to mark the province's 10th founding anniversary in Gia Nghia town on December 31.
Highlighting the need for the locality to speed up economic restructuring, especially in agriculture, the leader asked Dak Nong to make it easier for mineral exploitation and processing projects in the locality with regard to environmental protection and socio-economic effectiveness.
Apart from education and training, healthcare, culture, social affairs and poverty reduction, Dak Nong should place more importance on national defence and security, and the fight against crime and social evils, he said.
He also underlined the need for the province to pay more attention to building the political system and well implement the 11th Party Congress's resolution.
Along with the significant achievements Dak Nong has reaped over the past decade, several shortcomings have remained, such as unsustainable economic development, low productivity, slow economic restructuring, wastefulness in using natural resources and a high rate of poor households, the leader said.
Earlier, President Sang met with key provincial leaders, during which he requested the province to roll out a concrete plan and promptly mobilise resources to address issues relating to rapid migration.
The province was also asked to coordinate with ministries and branches to accelerate the implementation of forestry projects and handle deforestation which is widespread in the locality.
During his stay in Dak Nong from December 30-31, the leader visited farmers in Duc Minh commune, Dak Mil district who have outstanding performances in production and business.
He also visited and presented gifts to people in Bon Jang Plei 2, one of the villages housing a large number of M'Nong ethnic people in the province, and visited a business based there.
The President also met with officers and soldiers of Dak Nong border guard, asking them to contribute more to local economic development and poverty reduction while well performing their assigned tasks.